Miami-Area Laser Dentistry
by an Experienced Dentist at Gables Perfect Smile
Laser dentistry involves the use of highly concentrated light energy to produce predictable and powerful results. A full range of procedures can be performed at Gables Perfect Smile, near Miami, through laser dentistry. Our laser dentists have advanced training and extensive experience in a variety of laser dentistry procedures, including treatment of tooth decay, root canal therapy, gum contouring, and more.
Waterlase® MD Dental Laser
Drilling is one aspect of a dental appointment that nobody looks forward to. Whether it is the shrill, high-pitched shriek that it makes or the vibrations it causes when used on your teeth, dental drills can be one of the underlying reasons that patients experience dental phobia. Drilling is usually needed in several circumstances. This could be removing areas of decay so that a cavity filling or crown can be placed, or to create the hole needed to place dental implants into the jaw.

If the prospect of drilling bothers you, there is an alternative that eliminates many of the concerns associated with conventional drilling. It is known as Waterlase.

Waterlase is an award-winning advanced system that offers patients an alternative to treatments normally performed using conventional dental tools.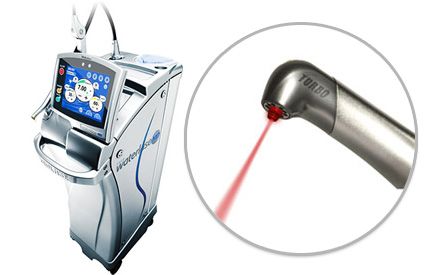 How Does Waterlase® MD Laser Work?
Waterlase uses a combination of high-energy laser technology and water spray to carry out procedures that would typically require an invasive drilling approach. As the laser is focused to undertake the element of the dental procedure that would usually be carried out using a dental drill, water is sprayed onto the area, preventing any accumulation of heat that could otherwise make laser dentistry uncomfortable.

Waterlase can be used to perform restorations on the teeth, gum, and bones without causing trauma to the surrounding structures and without the issues usually associated with a dental drill. Common procedures performed using Waterlase include decay removal, cavity preparation, root canal, gum and bone surgeries, and cosmetic dentistry treatments.

What Are The Benefits of Waterlase® MD Laser Dentristry?
There are a variety of different benefits associated with the use of Waterlase technology. These include the following:

A minimally invasive solution that doesn't require any surgical incisions to be made or drilling to be performed.

A very quiet treatment that doesn't have the sounds associated with conventional dental treatment such as the high-pitched whine of drilling.

No heat or vibrations during the treatment.

Treatment performed using pinpoint accuracy and precision.

Treatment can be performed using less anesthesia than in traditional dental procedures.

Provision of an effective, successful treatment in a shorter time.

Reduced bleeding during and after your dental procedure.

Reduced post-operative swelling and pain after your treatment.

Less need for pain medications after your treatment.

A reduced need for re-treatment.

Less patient anxiety and fear.



Is Waterlase® MD Laser Safe?
Many patients understandably have concerns about newer types of dental treatment that they have not yet experienced or had a great of information about. Rest assured that the use of lasers in dentistry is not a new development. Laser technology has been shown to be effective in numerous dental procedures and deliver great results. Waterlase specifically has been used for many years and the pinpoint precision with which it can be delivered means that it is considered to be both extremely accurate and safe for all types of patients.


Contact Us for Laser Dentistry
By utilizing a laser, we make dental care much more convenient, comfortable, and effective for our patients. If you would like to learn more about Waterlase, or if you would like to schedule a consultation to see if you are a good candidate for this revolutionary technology, please don't hesitate to contact Gables Perfect Smile in Coral Gables, FL at (305) 443-8225.