Dr. Gloria Ospina is renowned in Miami for her patent-pending, Gummy smile surgery. This surgery combines multiple techniques to create the smile that you have always wanted, but never thought possible. Through lip correction, lip-repositioning, crown lengthening, bone surgery, Invisalign, or a combination of the five, your smile can go through the ultimate transformation. Lip-reposition surgery allows Dr. Ospina to correct high lip-line smiles. This surgery gives patients the opportunity to alter their lip line so that more or less gum can be seen with a smile.
Lip Line Reposition Consultation
Dr. Gloria Ospina takes every patient's consultation seriously. These consultations give her all of the data and information she needs to create a comprehensive diagnosis plan tailored to you. These consultations consist of Photographs and X-rays that she needs to see where each of your teeth fall and how they impact your smile. Itero 3-D technology is used to create a digital model of a patient's mouth and facial structures. Pictures are also taken so that she can see your smile in various states, from a gentle smile to a smile you would usually see when you laugh. These photos help her evaluate how much gum is visible with varying levels of smiling.

Analysis Phase: with the photograph images, Dr. Ospina can analyze the size and the position of your teeth, how much gum you have, and how thick your lips are. From this analysis, she can see if altering of the lower lip to a different position is the best method to achieving the smile of your dreams.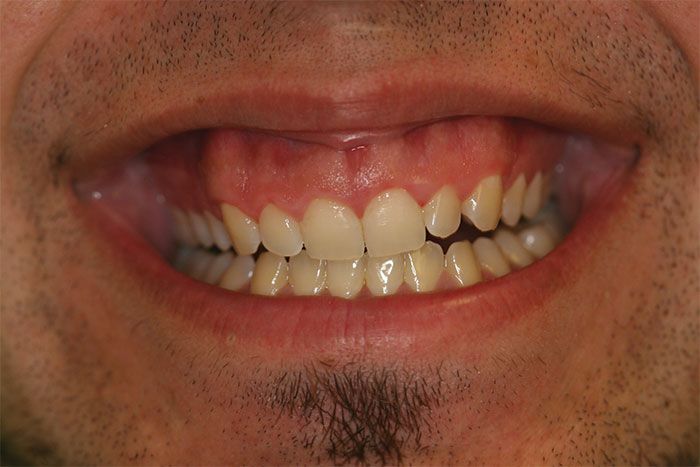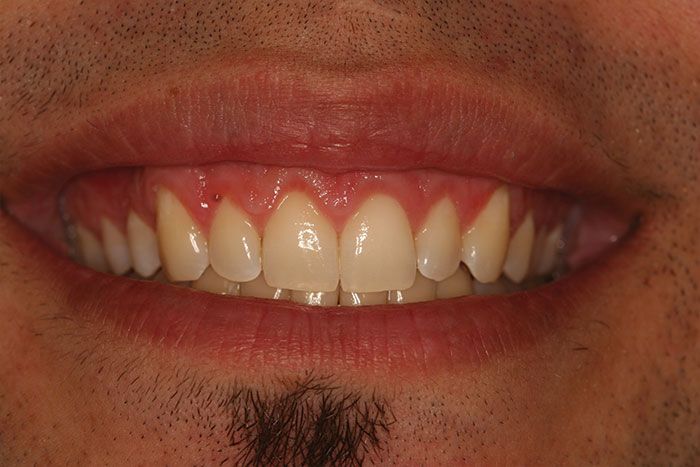 Dr. Gloria Ospina's Patent Technique
Dr. Ospina has a variety of techniques for lip repositioning and gummy smile surgeries. These techniques are patent and are leading the new wave of procedures for the future. Dr. Ospina's lip repositioning surgery is also known as high-lip line corrective surgery. During this procedure, she removes a piece of the tissue against the gum and against the soft gingiva. This technique releases the muscles underneath the gums and the lips rolls up, with the help of a small suture. She then adds Botox to the muscles that elevate the lip. This extra step ensures that the lip remains in place, and that the sutures remain in place. And, as an extra bonus, your lips become fuller, plumper, and look their absolute best. The use of Botox in the lip repositioning procedure has made the success rate of this surgery unparalleled. She also uses laser technology to ensure that the gum line is cleaned efficiently and painlessly.
Procedure Risks
As with any surgery or procedure, patients want to know what the risks are for a procedure. Instead of a huge list of side-effects and complications for high lip-line surgery or lip repositioning surgery, the risk level can be completed in two words – "extremely minimal." With all of the precautions during the diagnosis phase of lip repositioning, Dr. Ospina ensures that your risk level remains low. Every action is charted before hand, and you can rest assured that your medical complications remain at a minimum. She emphasizes the importance of proper planning and diagnosis, you can leave your high lip-line in the best of hands and experience a worry-free surgery. Also, this surgery can be reversed if you are not happy with the results. While no patients have ever requested that Dr. Ospina reverse the surgery, you can feel confident that no matter what, you will leave Gables Perfect Smile of Miami satisfied with your smile.
Lip Corrections and Rejuvenation
Dr. Ospina and Your Smile
If you think that you need a change to your high lip-line, then Dr. Gloria Ospina is here in Miami, Florida to make your smile dreams become reality. By using the latest, safest, and proven methods for lip repositioning surgery, she can ensure that you feel confident and happy with your smile. For more information about lip repositioning or gummy smile surgery, feel free to contact the entire Gables Perfect Smile team today!